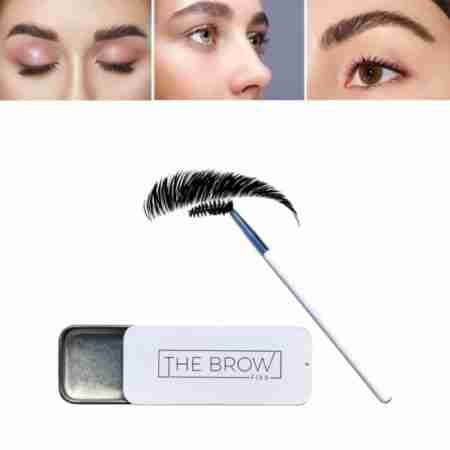 Fluffy, feathered brows with Brow styling soap formula
If you grew up in the days of eyebrow plucking or if you're new in the world of brow grooming, you may be looking for all the details on eyebrow styling soap and how to get fluffed and feathered brows. Well, you're in luck because we're here to give you the full scoop!
Fluffy and feather brows is the biggest craze these days because why not? Full, flawlessly light, and feathered brows look and feel amazing so let's get to it and figure out exactly how to get these fabulous styling gel soap brows!
What are Fluffy and Feather Brows?
Fluffy and feather brows are just that! Think of a bird's feather: natural, soft, and subtle. When we have eyebrows that are fluffed and feathered they follow their natural shape while appearing full of volume and perfectly groomed.
Not only do feathered brows work for all brow types and colors, but it's also a look that anyone can simply achieve in a matter of minutes!

Our Formula to Fluffy and Feather Brows
You may be a brow expert or a newbie, but either way, we're confident you can get this fad look all on your own with our quick and easy formula!
Stop Tweezing
The days of over-tweezing are long gone. Does anyone still long for the sparse brow look? If you do, it's time to change things up! It's okay to pluck a stray hair, but there's no need to get up in the mirror and tweeze away. The thicker the brow, the better. Thick brows are all the hype because they bring good attention to our eyes. And, if you didn't know, our eyes are one of our most prominent features so let's leave our brow hairs right where they are!
Be Natural
A neat thing about fluffy and feather brows is that you don't need to get a ton of work done. You can be you, groom yourself up a little, and maintain your natural beauty. While feather brows look like you've really taken the time you get the fabulous look, it's more about maintaining your raw beauty!
Fill in Your Brows
There's no problem with filling in your brows as a part of your morning routine in order to get thicker and more defined eyebrows. If this is something you like to do when you're getting ready for the day, go for it! Go ahead and cleanse your brow area and fill in your eyebrows as you normally would before using a brow styling soap.
Use a Spoolie
If you aren't familiar with a spoolie brush, we're here to introduce you! A spoolie brush is like a mascara wand without the mascara. It has soft bristles and is used to comb, blend, and shape your eyebrows while maintaining a natural look. Spoolies are easy to clean for reuse by rinsing with warm water and wiping off excess products.
A spoolie can also help with your mascara application. If you get clumpy lashes, simply wait for them to dry and brush through them with your spoolie. You can also use your spoolie to wipe off excess mascara that lands on your eyelids for a nice, clean look.
Check out this eco-friendly bamboo spoolie to add to your kit.
Brow Styling Soap
If you've never heard of brow styling soap, there's no better time to get to know it than now! This stuff is amazing! Brow styling soap is just that: soap to perfectly style your brows. Clear eyebrow styling soap brows allows you to get full, precise brows that will last all day.
An important thing to know about brow styling soap is that you can't just use any soap. You need a soap with glycerin because its low pH levels will prevent irritation. In fact, we've got the perfect brow styling soap gel for you!
A Brow Soap and Spoolie Kit for Flawless Feather Brows
We just mentioned our brow styling soap to you above and we want to tell you more about it! It comes in our Brow Styling Soap Gel and Spoolie Kit along with a spoolie brush. Styling gel soap brows give you fluffy and feathered brows in just a few moments and they last for the entire day. It leaves no residue and our kit takes up barely any space in your makeup bag. It's wonderful!
Organic Ingredients
One of the greatest things about our Soap and Spoolie Kit is that it's made with all organic ingredients, each with a useful and beneficial purpose.
Organic coconut oil: nourishes your skin and brows
Organic palm oil: softens and provides antioxidants for your skin and brows
Organic safflower oil glycerin: moisturizes and gets rid of dirt and oil
Organic castor oil: cleanses and hydrates the skin
Purified water: cleans and preserves the skin's natural oils
Sodium hydroxide: balances your skin's and hairs' pH levels
Sorbitol: conditions and moisturizes your brows
How to Use the Glycerin Brow Styling Soap and Spoolie Kit
Apply the brow styling soap following these 3 simple steps.
Clean any oils, makeup, and dirt from your brow area. If you're going to fill in your eyebrows, go ahead and do so, then let it set.
Dampen your spoolie by running it under water or spray it with a water mist. Rub your spoolie in the soap until it's lathered with the product.
Use the soaped spoolie to comb your brows upwards, applying the product evenly. Continue this until you get your perfect look!
*Pro-tip: if you don't like the look, wipe off and reapply. You'll be a pro before you know it!
In Conclusion
We love the look of natural, thick brows that are precisely fluffed and we love even more how easy it is to get this look! Styling gel soap brows are such a quick and affordable way to get professional-looking brows.
Want to know more? Check out these 10 reasons why eyebrow styling soap brows are the way to go for the most incredible eyebrows!