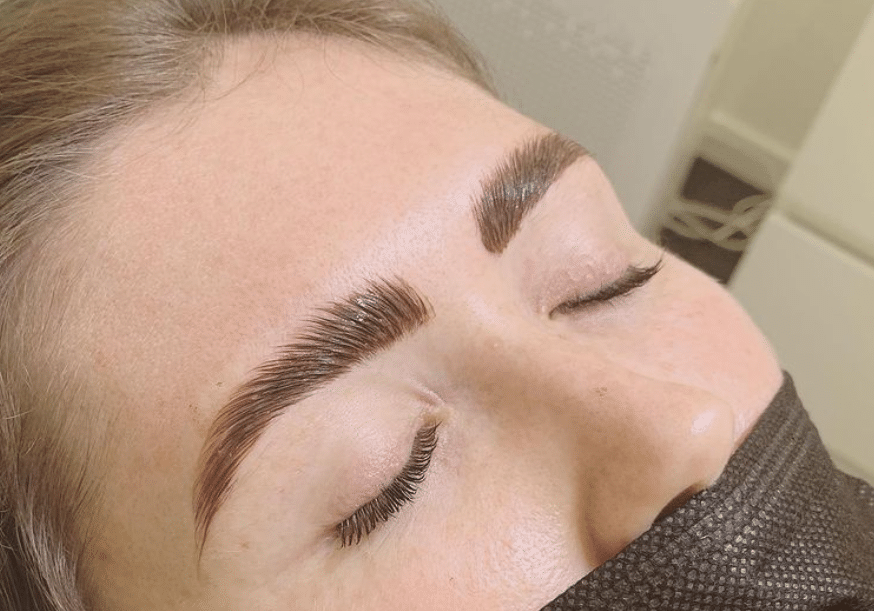 Brow Lamination and Henna Tint Combo For Incredible Brows
Are you looking for meticulous, dramatic brows that stand out in a crowd? Getting Henna Tint with your Eyebrow Lamination is the perfect solution! Combine these two services to get incredibly beautiful and bold brows. The best part? These two brow services are fairly simple and they're also pain-free!
Continue reading to learn about Brow Lamination, Henna Tinting, the process for each, and what a combo of the two treatments can do for you and your brows!
What is Brow Lamination?
Do you have wild and unruly brows? If so, a Brow Lamination service is for you! This technique tames your brow hairs by precisely setting them into place with all hairs going in the same direction with a just-combed look.
At The Brow Fixx, we use an advanced Eyebrow Lamination system. This technique gets your brows under control while also strengthening and nourishing them. Not sure what Keratin is? It's actually really great for your brows! Keratin is a chemical-free protein that protects your hair by nourishing, strengthening, and moisturizing it.
Our Keratin formula is infused with high-quality ingredients that are all beneficial. The ingredients include silk peptides, omega 3's, Vitamins C & E, silica, antioxidants, and antimicrobials.
The Process of Brow Lamination
A Brow Lamination treatment is pretty simple and quick and all you have to do is relax while your brow expert gets to work. The Keratin formula is applied to your brow hairs to get them ready to set into place. Then, your brows are lifted for a fuller look. Finally, all of your brow hairs will be set into place all in the same direction for a precisely groomed look.
If you've got some stray hairs you want to take care of, you can also get eyebrow waxing or tweezing done to enhance your new look.
What is Henna Tint?
Are you looking to add some color to your brows to make them pop and you're tired of applying brow color each morning? Then, Henna Tint is perfect for you!
If you've ever heard of Henna tattoos, you may know that this is the process of adding color to the body as body art. Henna Tint for brows works similarly as the color is added to your brow area for bold, beautiful brows that stand out.
The best part about Henna is that it's a natural, non-invasive component that comes from a plant. No need to deal with harsh dyes that can negatively impact your brow hairs and skin!
The Process of Henna Tinting
Again, this process is quite simple! You'll discuss what your brow goals are with your eyebrow artist and how much you want your brows to stand out. You'll also talk about the color that'll suit your brows and facial features best. Then, the Henna is placed on your brow line and combed through your eyebrows.
Read more about Waxing and Tinting.
Brow Lamination and Henna Tint Combo
Really looking to take things up a notch? Try getting a Henna Tint with your Brow Lamination! Getting both treatments can give you flawless, enhanced brows that are precisely groomed, stay in place, and stand out.
Pros of a Brow Lamination and Henna Tint Combo
Two services in one appointment save time and money.
You get the best of both worlds – brows that are flawlessly groomed and have a fuller, more bold look.
No more spending extra time in front of the mirror trying to use various makeup products to get the perfect brows.
Both treatments are non-invasive and safe to use, especially those with sensitive skin who have to avoid other brow services.
A Brow Lamination and Henna Tint combo is long-lasting, about a month give or take depending on your hair growth cycle and skin type.
It's not permanent. Although it's long-lasting, it isn't forever so it's okay if you decide you want a different look later on. The henna tinting uses a semi-permanent dye that fades over time.
Each treatment is fairly quick and pain-free. The combo takes about an hour.
The results are immediate. You get to walk out of the salon with show-stopping brows right away!
There's not much upkeep required.

Is a Brow Lamination and Henna Tint combo right for me?
With so many brow services out there, it can be hard to choose the right one! The good news is that these two services can take care of just about all-things-brows. You can tame your brows, make them lay just the way you'd like, and achieve a bold and full brow.
The combo is perfect for those who want to avoid a painful and/or permanent brow service while achieving a brow look that stands out. It's also ideal for those who want a natural, non-invasive treatment.
It's important to note that Henna Tint isn't best for those who have dry skin because it could dry your skin out more since it acts as an exfoliant. With that said, if you have extra oily skin, the tint can fade quickly. Talk to your brow professional to find out what brow services are most appropriate for you. There's something for everyone!
Upkeep of a Brow Lamination and Henna Tint Combo
As we mentioned, one of the great things about these services is that there really isn't much upkeep. To keep your brows looking incredible, you can do these simple things.
Avoid wetting your brow area for about 24 hours to allow the dye to set.
Tweeze stray hairs as needed if you'd like to keep a clean look. Just be sure not to over tweeze!
Although you won't need to apply brow color with your henna tint, you can apply brow styling soap if you'd like to maintain flawless brows throughout the day.
If you really want to keep things simple, you can quickly brush your brows each morning with a brow brush to groom them.
After 4-8 weeks when you're ready to boost your brows again, contact your brow professional for your next appointment.
If you're ready to tame unruly brows, achieve a precise and dramatic look, check out Brow Lamination, Henna Tinting, and other services at The Brow Fixx or find eyebrow lamination near me!