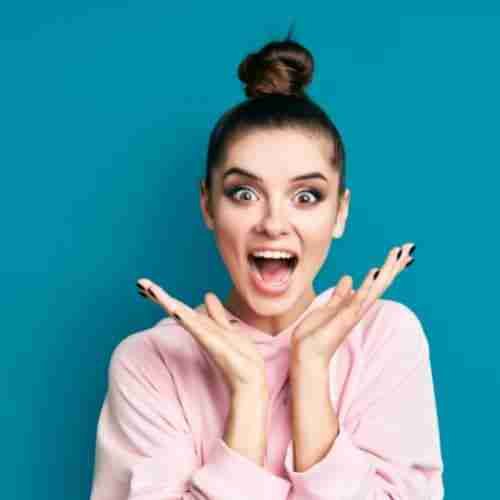 Why DIY Eyebrow Lamination Is Not A Good Idea
If you're an eyebrow enthusiast, you've likely heard of eyebrow lamination. Unlike its more permanent counterpart – microblading – lamination offers a non-committal, brow-perfecting treatment that tames unruly brows, makes eyes look brighter, and even gives the face a more lifted look. Its popularity has made it a must-have treatment for every glam guy and gal looking for life changing brows.
The DIY craze has been in full swing for some time now, with more companies popping up that offer full, at-home kits for all kinds of salon services. Brow lamination and tint kits are one of the newest DIY treatments to hit the scene, promising users in-salon results without leaving their homes. However, like many at-home treatments involving chemicals, a certain level of skill is required – one that doesn't come naturally (bummer). If you're encouraged by all the influencers out there that make brow lamination look like a breeze, we're asking you to reconsider, as DIY eyebrow lamination is NOT a good idea.
What Is Brow Lamination?
Brow lamination is a technique used to shape the brows in a semi-permanent fashion using a lamination solution. With a few spoolie strokes, artists can tame unruly brows and set them in place to achieve a fuller, more lifted look. The end result offers an instant change to the face, brightening the eyes and making them appear wider and shapelier – hence its popularity! Plus, brows will stay in this perfect shape for about six weeks, reducing the need for sticky lash products or (in some cases) the need to fill them in at all.
3 Reasons Why DIY Brow Lamination Is Not a Good Idea
While DIY might be all the buzz, here are some reasons why you should reconsider when it comes to at-home brow lamination.
It Involved Chemicals
Solutions that allow hair to become moldable and shaped into place contain a lot of chemicals. Unless you paid attention in chemistry, you're likely going to have NO idea what's in them or how they could affect your brows. By choosing a certified brow artist, you'll have access to approved solutions that are safe for the eyes and gentle on brows.
It Requires an Artist's Touch
Finding the perfect brow shape takes skills that (unfortunately) not all of us have. Brow artists have a way of bringing the best out of brows, which is why you should leave your eye framers in good hands. They will comb brows to make sure they're straight and work with face shape for the best set of brows for your face, giving love to each individual brow hair. Search eyebrow lamination near me for a Brow Fixx artist near you.
Mistakes Require Patience
There is a such a thing called the frizz brow that results from a bad lash lamination. It's caused by leaving the solution on too long or not properly brushing brows, causing the hair to kink. There is no solution to this phenomenon; you just have to wait it out. The same goes with unflattering shapes or scarring due to lamination solutions with harsh ingredients.
At Home Vs. In Salon: Is There A Difference?
Brow lamination kits will promise the whole kit and caboodle, with testimonials and before & after photos to prove it. Still, there is a lot more to it than just the application of solutions, which is why you should go with a pro.
| | | |
| --- | --- | --- |
| | At Home | In Salon |
| Solution | Full of things you can't pronounce and likely not certified with brow-nourishing ingredients. | Access to the top-tier solutions that can only be purchased by certified brow and lash artists. |
| Process | You or a friend will be in charge of the entire process, including perfecting the shape. Without the necessary skills, you could wind up damaging brows or shape them incorrectly – only able to wait it out. | Skilled artists with years of experience will expertly shape brows and oversee the entire process from start to finish. This is not their first time, and they have real results to prove it! |
| Afterward | You have to clean up your brows and make sure they look how you were hoping. You also have to read up on aftercare to keep brows in shape until your next treatment. | Artists will first tweeze unwanted hairs and ensure that all is cleaned up and perfect before the big reveal. They will make sure and give you the scoop on how to care for brows before you take off and provide expert upkeep tips. |
Also, don't just choose any salon or artist. While it's easy to search the web for brow lamination near me you might want to reconsider before you do, choosing those with experience, good results, and access to certified solutions that are safe for the eyes and brows.
Before beginning, artists will first take a look at brows and have a chat about what you're hoping to achieve. They'll inquire about shape and make sure that you're a good candidate for the treatment before beginning. Once all is checked out, the process begins with a quick cleaning of the eyebrows. From there, a few steps follow, including:
Application of Keratin Solution
The first step in the process is application of our Keratin Solution that's infused with silk peptides and botanicals rich in omega 3's and vitamins A & C. You won't find this in any at-home kit, as only certified lash and brow artists can score this magical solution. It will not only allow artists to create the perfect shape but will also leave brows nourished and stronger than ever before.
Expert Shaping
Brow artists will work with your face shape to find your best shape and comb brows in the proper direction. Small details are key, so each hair is given attention and placed precisely in the perfect place to ensure that the shape is on point. While the solution sets, artists will clean up any unwanted hairs as needed.
The Extras
Adding a tint with brow lamination will not only give brows a lifted and fuller look but will also darken each hair to add a bit more depth to your look. When adding tint, guests can expect to spend around an hour in the salon before stepping out with brand new brows.
Find out more with Your Complete Guide To An Eyebrow Lamination & Lash Lift Service