EYEBROW TINTING
Eyebrow tinting is a semi-permanent treatment that delivers more defined brows instantly. By dying your brow hairs, you can achieve fuller looking brows by enhancing your natural brow shape. Before beginning, brow artists will expertly match dye to skin tone and hair color, creating a subtle pop to enhance face and eye shape that lasts up to 6 weeks.
BOOK NOW
HOW DO WE TINT YOUR BROWS?
We want all our clients to feel at home, inviting them in for a quick chat before the treatment begins. We'll ask some questions about your skin, go over your brow goals, and work with your skin tone and hair color to find the perfect tint for your brows.
Using gentle formulas, brow artists get to work, painting each hair with precise, delicate strokes. Once each brow hair is covered, clients can sit back and relax while the tint settles in. After about 15-20 minutes, tint is wiped off the brows using a cool, damp cloth and skin is cleansed to tighten pores.
Before showing you the amazing results, brow artists will brush through hairs to ensure even coverage. Brows will appear fuller and add more definition to the face after eyebrow tinting, and results last up to 6 weeks.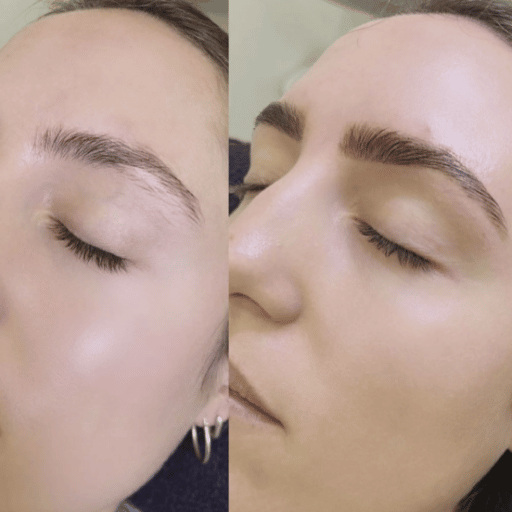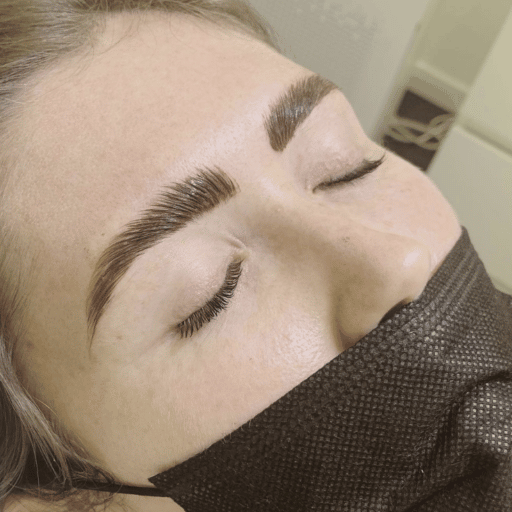 Why do a brow and lash tint at The Brow Fixx?
Welcome to our leading salon for lash and eyebrow tinting, conveniently situated near Austin, Texas. Our commitment to tailored experiences truly distinguishes us from the crowd. Before each lash and brow tinting session, we prioritize detailed consultations. Our adept practitioners engage in thorough conversations to grasp your desired tint shades and specific preferences. This approach ensures personalized techniques that elevate your individual facial features. Immerse yourself in the artistry of our studio, where your unique beauty is the star.
Our Services
Lip, Sideburns, Chin, Jawline, Nose & Ears

Lip, Sideburns, Chin & Jawline
EYEBROW THREAD & HENNA TINT
Frequently asked questions?
HOW DO I BOOK AN APPOINTMENT?
You can book an appointment online by clicking here, or contact us at (512) 368-3233.
HOW LONG DOES A EYEBROW TINT LAST?
A eyebrow tint usually lasts about 4-6 weeks.  It all depends on your hair growth and daily products used for your eyebrows.
WHAT IS A HENNA TINT?
A
henna brow
tint gives color to your hair follicle and also stains your skin. Henna stain on the skin can last up to 7 days.
HOW CAN I CANCEL AND RESCHEDULE MY APPOINTMENT?
You can cancel or reschedule an appointment 24 hours in advance. There are 3 ways you can cancel and reschedule an appointment.
1) Click on the confirmation link you receive in your text or email, once you click on the link you can cancel or reschedule your appointment.
2) Email support@thebrowfixx.com
3) Call or text us at (512) 368-3233
CAN I SHOW YOU A PICTURE OF A BROW SHAPE I REALLY WANT?
Yes. If you show me a specific brow shape you really want, I will do my very best to give you those spectacular arches. Keep in mind that all face structure and eyebrow hair are not the same, so it may not be 100% exactly what you want, but I will get it matching that brow shape as much as possible. Once I shape your brows, I will walk you through some steps on how to apply products to help you get that perfect look.
They said
"
Diane
The brow fix is by far my favorite salon for threading. The staff is personable, friendly but most of all efficient. They get the job done perfectly in a reasonable amount of time.
Aleksandra S.
Amazing experience. It was my first time having my brows and lashes treated. Impressed with professionalism and very friendly atmosphere.
Lauren F.
The absolute only place I will trust with my brows and lashes. I am so so so picky. When I was a kid, I had my brows ruined, so I've been so careful ever since. I've been seeing Naomi for over a decade. She's a perfectionist when it comes to brows and lashes. I will never go anywhere else!
Marisa
I love The Brow Fixx team! They do exquisite brow lamination, shaping, lash lifts etc. I've had it all and can't say enough about this place. You will not be disappointed! Go and try for yourself!
Lynn
Naomi is such a perfectionist! Ashley is also awesome, just had a lash lift with her and I love it! They will not disappoint! This is my go to for brow lamination and lash lift because I'm picky!
Brooke I.
The Brow Fixx is super professional, timely and offers quality service! I'm obsessed with my brows every single time I get a lamination. Naomi and her staff are all great and very sweet.
Vanessa
After a year and half in LA my search stops here for the perfect eyebrow threading! Thank you to Naomi for getting my eyebrows back to where they need to be (full, even, perfect!)
Ileana
I love how my eyebrows and lashes look immediately after my session! It's truly such a time saver to wake up and feel like your eyes look awake (lash lift) and you have a full brow look to start the day!