Eyebrow Lamination Pros and Cons
Amazing eyebrows are everything these days in the beauty world! Gone are the days of sparse, overly plucked, bland eyebrows. With so many brow services to choose from, today we're talking about Eyebrow Lamination pros and cons. Spoiler: there are more pros than cons!
What is an Eyebrow Lamination?
Eyebrow lamination is a method that tames, softens, and straightens eyebrows. During a Brow Lamination Service at The Brow Fixx, keratin is infused into the brow hairs. The hairs are then precisely set into place for a groomed look. Your brow pro will brush and shape your brows to give you your desired look. The goal is to tame unruly hairs and to give a just-combed, flawless appearance.
While we can't speak for other brow salons, the keratin used at The Brow Fixx is a gentle formula consisting of all good things. It consists of omega 3's, vitamin E, vitamin C, antioxidants, silica, and antimicrobials. Say hello to moisturized and strong brows!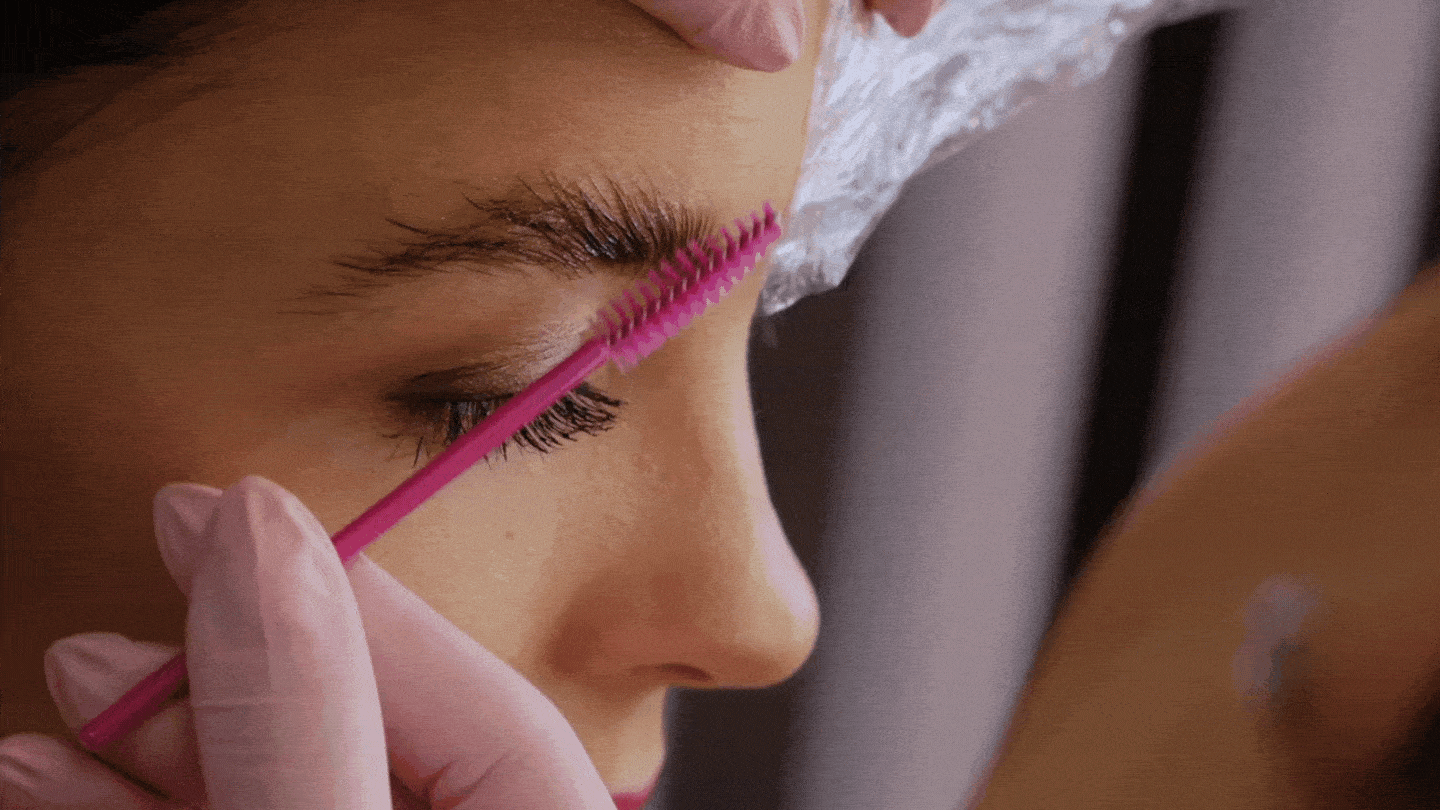 Eyebrow Lamination Pros. Eyebrow Lamination is a hit for our clients. They (and we) love it for so many reasons and there's a good chance you will, too!
It doesn't require any prep. With full schedules, sometimes there just isn't time to get your brows ready to be fixed up. No problem! Actually, leaving your brows alone and letting them grow out is best before a brow lamination service. As we know, thick brows are the latest hit.
It tames rowdy brows. If you've got unruly eyebrows, a brow lamination is one of the best services for that. The keratin that's applied to the brow hairs is similar to a perm where it sets the hairs into place. A brow lamination tames and redirects your natural brow growth.
It's not painful. If you avoid getting your brows treated because waxing and tweezing hurts, this isn't the case with lamination. It's a gentle service with no pulling or tugging.
It's good for your brows. An Eyebrow Lamination is noninvasive. The Keratin formula is really good for your brows, making them stronger and moisturized. In fact, The Brow Fixx's Eyebrow Lamination Service is a very safe service.
It can be paired with other services. If you do want something extra pizzazz, you can pair your eyebrow lamination with a lash lift to get immaculate brows and curled defined lashes. If you just want some extra love for your brows, you can add on tweezing or waxing.
It's long-lasting. Because everyone's hair cycle is different, the time a brow lamination will last vary. Regular hair growth is approximately a month, so eyebrow laminations usually last for three to eight weeks.
It's easy to maintain. Keeping up with your amazing brows after your brow lamination service is fairly simple. There are a few things you can do to ensure they stay looking fabulous until your next appointment.
Use a brow brush to define and shape your brows for a groomed, precise look.
Brushing your brows will also allow you to spot any stray hairs that need tweezing. Plucking unwanted hairs above or below the brow line will allow you to maintain a clean look, but make sure not to over tweeze.
Using the Brow Fixx's Brow Soap will keep your brows in place giving a flawless look all day long.
When your brows start to grow back in, you can contact your brow expert for your next appointment. Remember, a brow lamination service is best when your brow hairs are longer to obtain a fuller, fluffy look.

Eyebrow Lamination Cons
It's like they say, with the good comes the bad. However, the good news is there aren't many downsides to an Eyebrow Lamination. Let's check them out!
It shouldn't be done at home.
While we understand clients wanting to maintain their brows in the comfort of their own home, we don't recommend doing your own brow lamination service. Here are some reasons why your Eyebrow Lamination should be left up to an expert.
They are knowledgeable in the right brow shapes for various facial structures and hair types.
They can address brow color if needed and they'll know about picking the right shade of color. If you're looking for extra definition, ask about brow tinting.
We know how easy it is to overpluck. A pro can properly get rid of stray hairs to ensure you're not left with brows that are too thin.

It works better for fuller brows.
The thing about an Eyebrow Lamination is that it won't give you fuller brows. However, a brow pro can direct hairs to cover gaps to aim for that fuller look. If you have sparse eyebrows, try to let them grow out or ask your brow expert what method will work best to give you the look you're going for. We promise there's something out there for everyone!
It's not best for those with sensitive skin.
If you have sensitive skin, there's a possibility your eye area could get irritated by a brow lamination service. Talk with your brow expert to decide what will work best!
Is an Eyebrow Lamination Right for Me?
An Eyebrow Lamination is a noteworthy option for many people. This includes those looking to get their brows under control and get a precise, clean look. If you don't like the pain of other brow methods, this one is great!
If you have sensitive skin or thin brows, discuss your options with the expert!
In Conclusion
There you have it! The pros definitely outweigh the cons of a brow lamination service. For a quick overview of the cons, an Eyebrow Lamination shouldn't be done at home, works best with fuller brows, and may irritate already sensitive skin. Of course for the pros, a brow lamination is simple to prep for and upkeep, it's not painful, it tames unruly brows, and can be paired with other services.