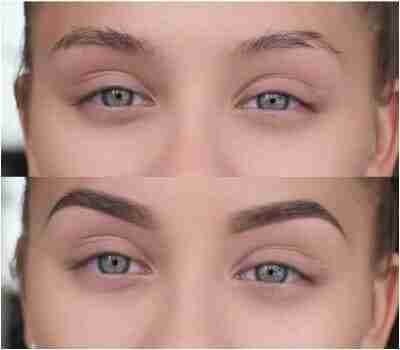 BROW HENNA TINTING
If you're a fan of regular brow tint, then you're going to love henna eyebrow tinting! When I think of henna, I think of a plant that is mostly known to produce beautiful body art but as some of you may know henna can be used for so much more. Henna first worked its way into Western culture as a natural alternative to synthetic hair dyes. Those looking for natural ingredients, such as pregnant women, started using henna because it doesn't have the harsh ingredients of salon dyes. Most recently, henna has combined its skin staining and hair dying properties for the benefit of brows. Clients love its natural properties because it doesn't require developer or oxidant and it has serious staying power.
I find that many clients want the look of fuller brows, like microblading can offer but don't want the commitment or price tag. If this sounds like you, henna brow tint can be a great option! It stains the skin creating the illusion of fuller brows, the same way microblading creates the appearance of more brow hair.
Another reason client love henna brow tint is the fact that it can last much longer than regular tint. Henna brow tint can last upwards of a month, with proper application and aftercare. This is great news to those who find traditional tinting only lasts 2 weeks at most and only stains the skin for a very short period of time.
Is henna brow tint for everyone?
Henna is generally safe for everyone. However, henna is a natural exfoliant and I personally don't recommend it for clients who have extremely dry skin or eczema. The same goes for clients with have extremely oily skin. Henna can fade faster than normal because the natural oil the skin produces tends to lift the dye away from the skin faster.
Overall, we're huge fans of the henna brow trend. It takes tinting up a notch by adding a tattoo effect and a much longer lasting skin stain. If you're looking to create fullness, or you're looking to swear off chemical dyes forever, henna brow tint could be for you!
Henna brow tint will be available soon at our Eyebrow threading and waxing salon in Santa Monica (The Brow Fixx), so stay tuned!
Tips To Prepare Your Skin Before A Brow Waxing Appointment: check out the article here.
Until next week,
Naomi xo