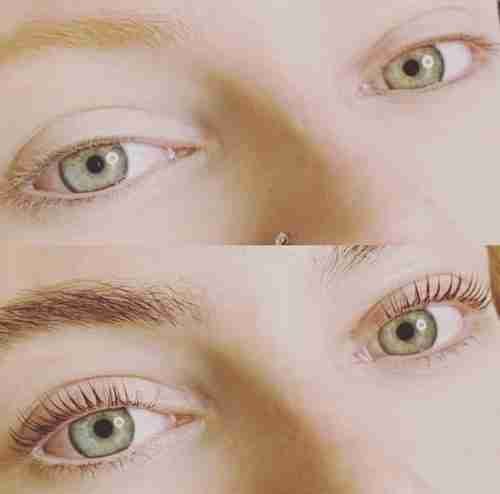 Eyelash Extensions VS Lash Lift
Are you looking for a way to make your lashes stand out more?? We all love (and want) long beautiful lashes and if you're not blessed with luscious lashes naturally, lash treatments can make a huge difference. Lash treatments or enhancing the natural lashes have become so popular because lashes are considered to be most important thing to make your eyes pop. But what type of treatment should you do, and which one would be the most suitable for you? The two most popular eyelash treatments are: Eyelash extensions and keratin eyelash lifts. Below is the difference between the two to help you figure which one would be the best for you.
The Difference between Eyelash Lifting and Eyelash Extensions –
Both of these treatments are used to make the lashes appear longer, fuller, thicker and stand out more, however, they work differently. Eyelash extensions involve the bonding of individual lashes to your natural lashes by an experienced artist to make them look fuller and longer. Lash lifting involves the natural curling of your lashes to make them appear longer and fuller. So, the lash lifts give an enhanced look to your natural lashes while the eyelash extensions can be used for a more dramatic effect. Really, it all comes down to preference.
Pros of Lash Lifts
The biggest pro of lash lift is that they look absolutely natural as compared to the extensions. Another great advantage associated with the lash lifts is that the maintenance is every 8-12 weeks vs every 2-4 weeks with extensions. There aren't as many associated irritations since you are using your own natural lashes.
Cons of Lash Lifts
One of the biggest cons of the lash lifts is that many people can't get theirs lifted because they are just too short. Also, if you have spaces or gaps in your lashes the lift could make these more noticeable.
Pros of Eyelash Extensions
Eyelash extensions, if done right, are the best thing that can happen to a woman. They give the most dramatic look to your eyes and would be particularly perfect if your wedding is coming up. Most women say getting ready in the morning is a snap because your eyes POP without putting on mascara or heavy eye makeup daily.
Cons of Eyelash Extensions
The biggest drawback of the lash extensions is that they are high maintenance. They last for only a month and may also need a touch up in between. Also, some complain of irritation or allergies to the glue, so it might not be right for someone who has eye sensitivity.
How to choose the right one for you?
In order to choose the best one for you, it is important to know what type of look you want. If you want a more natural look, a keratin lash lift would be more suitable and if you are going for a more dramatic look, go for the extensions.
I hope this helps!! Let me know if you have any questions! If you need to get those eyebrow in shape we are eyebrow waxing & tinting salon in Santa Monica. Besides waxing if you want a more natural look, we provide eyebrow threading service. The Brow Fixx is located on 1333 2nd street, Santa Monica, CA 90401.
Make sure to read our blog post on why it's important to get waxed by a professional.
Cheers,
Naomi