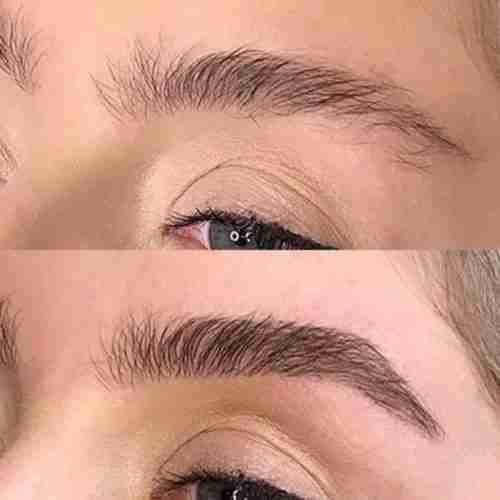 EYEBROW MISTAKES TO AVOID!
Brows frame your face, we all know it. If you get the shape right, they can lift your eye area, take years off of your appearance and enhance the shape of your face. But get the shape wrong and it can completely change your whole look, in a BAD way.
Here are some common brow mistakes I see all the time.
Over-tweezing your Brows
One of the worst things you can do…over-tweezing. Seconds in front of the mirror can lead to damage that can take months of regrow. Our tip? Stay away from tweezers, unless you know you can restrain yourself to just tweeze the stay hairs FAR from the brow line.
If you have over-tweezed and need help getting your brows from botched to bushy we can create a regrowth program for you. This will help ensure your brows grow back into the perfect shape.
DIY Brows
Next time you're in a crunch and thinking of doing your brows yourself, just remember the dreaded brows of the 1990s.
Our advice? Leave it to the professionals. It's hard to see what shape is best when doing it yourself. Having A professional recommend and advise you on the perfect shape, style or color that will compliment you is always a good idea.
Trying To Make Them Identical
We all know the saying "they are sisters, not twins." This is so true and there are very few of us on the planet that have a symmetrical face. Save yourself the effort of trying to make your brows identical. Brows are always going to be slightly different. Tinting or filling them in can help them look more similar if it is something that really bothers you 🙂
Picking The Wrong Product
With so many brow products out there, it can be hard to figure out the right one for your eyebrows. At the same time, with so many brow products out, theirs sure to be something perfect to suit your look, skin, lifestyle and make up routine. If you don't have any idea about makeup or which product would be right for you, don't hesitate to visit your brow technician. We're always here to help and educate.
Coloring Them In Too Dark
When it comes to eyebrow filler, less is definitely more. Step away from TOO bold and opt for a color that will compliment your brows.
Using Brow Stencils
One shape doesn't fit all. When it comes to brows, they're as individual as fingerprints. Brow stencils seem like a good idea, but the reality is that everyone's features, bone structure and face shape, features are different.
Don't Skip The Brow Gel
Many women use eyebrow gel as the final step when grooming their eyebrows. The gel keeps your eyebrows in place and helps define the shape. Tinted gel can add color for a more filled in or dramatic look. Clear eyebrow gel can be used for a everyday, natural look. Either way, eyebrow gels can enhance the way your eyes look.
We are a local eyebrow waxing and threading salon in the Santa Monica area, if you ever need to speak to a brow artist or need some advice, please feel free to reach out to us at any time. We are here to help you 🙂
Besides eyebrow waxing and threading, we are also specialized he G.E.L Keratin lash lift services and eyebrow henna tinting.
In the next couple of weeks we will be launching our new service the Keratin Brow Lamination.
Until next time xoxo Naomi