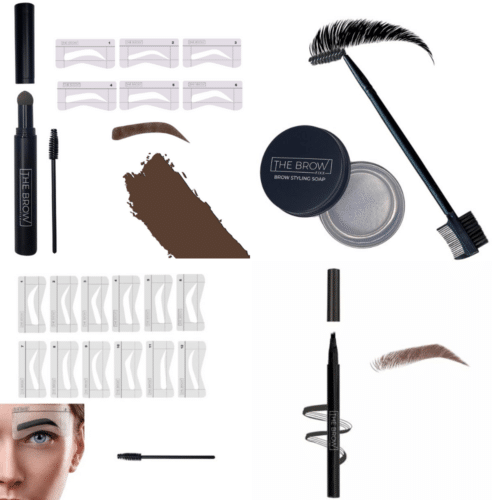 LOOKING TO BUY WHOLESALE COSMETIC EYEBROW PRODUCTS!
The Brow Fixx is Santa Monica's premiere spot for in-demand brow treatments and high-quality products. Under our roof, we have artists with decades of experience, all equipped with essential skills to totally transform unruly brows into the perfectly tamed, face-framing set. We also have a number of essential brow products that are quite the rave – most of them helping clients recreate the perfect brow at home.
If you're in the business of beauty, you know that it takes more than just a few client transformations to keep the doors open. To play it safe, it's good to have a steady stream of profits coming in along with a balance of both repeat and new clients. Adding our essential brow products to your lineup of goodies is one way to increase your salon's revenue – and we're here to tell you how.
If you've never bought wholesale, we're here to change your life, giving you a sure, cost-effective way to boost sales and profits. The benefits of buying wholesale cosmetics include:
Lower costs
More product selection
Scalability
Just like buying anything in bulk, when you buy wholesale makeup to sell, you'll score lower costs per unit, allowing you to set fair prices that still allow you to make a profit. However, not all products are made equal. The last thing you want to invest in is products that clients don't want to buy. Instead, you need products you're excited to introduce that make sense to your client base. As a business owner in the world of beauty, you're likely always on the lookout for quality, cost-effective products, which is why we'd like to introduce you to our star lineup.
Unlike other makeup wholesalers, we're not in it to make a quick buck. We're in it for the long haul, constantly evolving and adapting to provide our clients with more of what they want. After some time skimming the market, we've added a few must-haves to our list of wholesale products and are always on the lookout for lovely additions.
Our brow styling soap kit comes with an all-natural, cruelty-free, vegan, hair-taming brow soap that whips brows into shape and keeps them that way all day. Apply the soap with our angled spoolie brush and tame hairs into place with the comb combo on the opposite end.
Perfect for: achieving fluffier, fuller brows (soap brows) and holding them in place all day long.
Shaping the perfect brow takes time – something (come Monday morning) we don't always have enough of. The brow stamp kit is for beginners and pros alike, providing a guide for the desired brow shape and a sweat-proof, pigmented pomade for a natural look. Simply choose one of 6 stencil shapes, place it on the brow, and stamp the pomade across, repeating if you want added depth.
Perfect for: no-fuss, brow perfecting, and natural-looking everyday brow routine
The microbladed look is in, but it can take more of a commitment than some clients are comfortable with. With our microblade brow pen, clients can create hair-like strokes easier than ever. It features a three-tipped applicator, making brow shaping a breeze, and comes in four shades to compliment brows of all shades.
Perfect for: a long-lasting, quick way to define brows with hair-like strokes
Our makeup remover pads are eco-friendly and come with microfibers that penetrate deep into pores for a deeper clean. Use them with water or your favorite makeup-removing formula, gently wiping makeup off and tossing them in the wash to reuse them again and again.
Perfect for: an eco-friendly way to get squeaky clean at the end of the day
Brow Brush
If there is one secret weapon in every brow guru's bag, it's got to be a spoolie! Our brow brush is equipped with durable fibers that grip brows just enough to put them in shape. Use this brush before adding products or use it to apply our styling soap to ensure each hair is coated evenly.
Perfect for: fluffing bare brows or applying brow products
Using The Brow Fixx Products In Your Store
At The Brow Fixx, we have a wide range of goals that span from our clients to our collaborators. When it comes to our products, we want to be a trusted source of affordable products that clients and artists from brow salons across the nation can enjoy. For those looking to add a stable and effective source of income to their salon, here's why you should look our way.
We Love Brows
Brows are a trending topic these days. All of the hottest makeup artists emphasize brows, inspiring makeup brands to release brow products of all kinds. As most of us know from experience, finding the perfect products in a flooded market can be overwhelming, which is why we did the leg work. We've put together a combo of products for brows that are right on trend, and sure to be desired by all of your clients once they give them a try.
We Work with You
Unlike some companies, we tailor quantities to fit salons of all sizes. No matter if you're a small-town or big-city salon, we will work with you to get you the perfect amount of products that will give you maximum turnover and profit.
We're Nationwide
As long as you're within the continental US, we can get our products to you. Pick out what you'd like, tell us how much you'd like, and we'll get it to you as soon as we can.
Tips On Successful Selling
We know that most of you are in the business for the client, aiming to help them achieve their brow goals. While retail may not be your forte, it can help boost your revenue – which you can use to upgrade your salon, advertise, or integrate new and trending treatments. To get clients excited about products (without being pushy!) we recommend:
Using them – clients won't know the magic until they see it. Use the products to perfect the brows post-shaping or during makeup application. Show them the product's potential, and we promise, you won't have to say anymore.
Promotions – add a few promos during the holidays that include a combo of products and treatments. This adds incentive and will give clients something new to try out.
Free trials – we're not saying give all your products away but, you could give away a few to some of your most loyal customers. You could give clients a punch card that gifts them a free brow product after a set number of your star brow treatments, getting your products out there to start spreading the news.
Let's Chat
We're excited for you to collab with us, sharing our quality and affordable eyebrow products with your clients. We'd love to hear about your goals as a wholesaler and answer any questions you might have on how you can make retail a success. So, let's get in touch, and give more clients access to the ultimate set of sculpted brows.